Howard Morgen Guitar Tab Books, Instruction DVDs, Chord Melody Solos, Arrangements, Video Lessons
*FREE BOOK - "Jazz Guitar Chords & Arpeggio Patterns" by Stacy McKee (with 1st order)*
..................................................Chord Melody Guitar Music.......................................................
1-800-913-9477 -Toll Free 843-838-2657 - Phone 843-838-7381 - Fax chordmelod@aol.com
Acoustic Guitar Books/DVDs..........Classical Guitar Books/DVDs.............Lick Library Guitar DVDs
Beginner's Guitar Books/DVDs.......Country Guitar Books/DVDs..............Play Along Guitar Books/DVDs
Blues Guitar Books/DVDs................Flamenco Guitar Books/DVDs............Religious Guitar Books/DVDs
Brazilian Guitar Books/DVDs..........Jazz Guitar Course Books/DVDs........Robert Conti Guitar Books/DVDs
Celtic Guitar Books/DVDs................Jazz Guitar Books/DVDs (A-K)..........Rock Guitar Books/DVDs
Christian Guitar Books/DVDs..........Jazz Guitar Books/DVDs (L-Z)...........Spanish Guitar Books/DVDs
Secure Order Form
*Click Here For Featured DVDs Of The Week On Sale!!
==> Click Here To Search By Artist Name or Band Name <==
Need Help Choosing The Right Guitar Book or Video? Peabody Conservatory
trained guitarist Steven Herron is available to answer questions and make recommendations
that will help you become a better guitarist! Just call Toll-Free 1-800-913-9477 now!!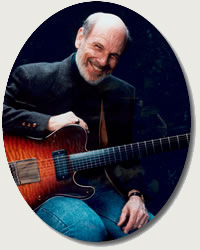 Howard Morgen
Howard Morgen was involved with music in many ways. He was a fingerstyle jazz columnist, worked at the Manhattan School of Music and Guitar Study Center. He was also involved in the Guitar Player Magazine Faculty and The New School for Social Research. Howard did some of the best solo fingerstyle jazz guitar arrangements that you'll ever hear of pop, jazz and Christmas standards. His arrangements are very polyphonic and use inner moving voices, walking bass lines, artificial and natural harmonics, chord substitutions and extensions, and chord reharmonizations.

Howard Morgen died in 2012 from cancer and guitarists everywhere lost a great performer, teacher and arranger with his passing. Charlie Byrd was an avid fan of Howard's playing and often cited him as one of his favorite arrangers of jazz and pop standards for fingerstyle guitar. Paul Simon studied guitar with Howard for years, pursuing his never ending quest to understand harmony and become a better guitar player himself. Howard will be sorely missed by guitarists all over the world.

Howard Morgen Plays "Taxi, Cheers, & All In The Family"

Howard Morgen - Concepts: Arranging For Fingerstyle Guitar - Book
Discusses the art of solo guitar playing and fundamentals of music theory. Solo guitar arrangements include: "Laura, The Boy Next Door, Sweet and Lovely, Blue Moon, Stompin' at the Savoy, Have Yourself a Merry Little Christmas, Just Friends, What Are You Doing the Rest of Your Life, Taking a Chance on Love, Whispering, In a Mellow Tone, Don't Blame Me, The Shadow of Your Smile, On Green Dolphin Street".
Standard notation / Fingerstyle..................................................Price - $20.95

Howard Morgen Plays "Stardust"

Howard Morgen - The Ellington Collection For Solo Guitar - Book and CD
Includes solo guitar arrangements of "Do Nothin 'Til You Hear From Me, Don't Get Around Much Anymore, I Got It Bad and That Ain't Good, In a Mellow Tone, In a Sentimental Mood, It Don't Mean A Thing (If It Ain't Got That Swing), Mood Indigo, Prelude To a Kiss, Satin Doll, Sophisticated Lady, Take The "A" Train, Caravan".
Notation and tab / Fingerstyle...................................................Price - $19.95

Howard Morgen Plays "Caravan"

Howard Morgen - The Gershwin Collection For Solo Guitar - Book and CD
Includes solo guitar arrangements of "Bess You Is My Woman Now, But Not For Me, A Foggy Day, He Loves And She Loves, How Long Has This Been Goin' On, I Got Rhythm, It Ain't Necessarily So, Our Love Is Here To Stay, Love Walked In, My Man's Gone Now, Nice Work If You Can Get It, Oh Lady Be Good, Someone To Watch Over Me, Summertime, They Can't Take That Away From Me".
Notation and tab / Fingerstyle...................................................Price - $24.95

Howard Morgen Plays "It Ain't Necessarily So"

Howard Morgen - Fingerstyle Jazz Images For Christmas - Book and CD *Out Of Stock*
Includes solo guitar arrangements of: "Hark the Herald Angles Sing, Jingle Bells, Joy to the World, Oh Christmas Tree, Oh Little Town of Bethlehem, What Child is This?" and a very cool medley of "Silent Night, God Rest Ye Merry Gentlemen, Deck the Halls, It Came Upon a Midnight Clear".
Notation and tab / Fingerstyle...................................................Price - $17.95

Howard Morgen Plays "Danny Boy"

Howard Morgen - Solo Guitar: Insights, Arranging Techniques & Jazz Standards - Book
Includes lessons on transcribing, arranging, counterpoint and harmonizing the melody, artificial harmonics, "harp" effects and harmonic cascades, fingerboard insights, chord progressions, substitutions, and chord embellishments. Solo guitar pieces include: "Those Were The Days, It Might Be You, In Your Own Sweet Way, Santa Claus Is Coming To Town, It Don't Mean A Thing, You Stepped out Of A Dream, Stompin' At The Savoy, Invitation, Misty, Laura, Take Five, Oh! Susanna".
Notation and tab / Fingerstyle...................................................Price - $20.95

Howard Morgen Plays "Laura"

Howard Morgen - Through Chord Melody & Beyond - Book and CD
A comprehensive 192 page, hands-on guide to playing and arranging solo jazz guitar chord melodies - featuring 11 classic standards. In this definitive work, Howard Morgen - a true master of solo jazz guitar - demonstrates all the tools, techniques and concepts you need to create masterful solo guitar arrangements. Topics include: chord melody and fingerstyle techniques, chord construction, chord embellishment , chord voicings and voice leading, fingerstyle independence and walking bass lines, chord fragments and interval shapes, inner moving lines, tritone substitutions and much more! All the music examples in this one-of-a-kind book are immediately applicable for professional usage and are from some of the most classic jazz standards of all time. The "Enhanced" CD features 19 solo guitar arrangements fully demonstrated by Howard Morgen and 6 complete video performances all accessible from you computer's CD-ROM. Multiple versions of each chord melody solo arrangement are given! Songs include: "The More I See You, 'Round Midnight, Lil' Darlin', Stardust, Alone Together, Speak Low, It's Only a Paper Moon, My Funny Valentine, Body and Soul, My Foolish Heart, Nice Work If you Can Get It" - plus 8 of Howard's original compositions!
Notation and tab / Fingerstyle...................................................Price - $39.95

Howard Morgen Plays "It's Only A Paper Moon"

Guitarists who like Howard Morgen also like:
The Hank Mackie Solo Guitar Collection

The Charlie Byrd Solo Guitar Collection

The Howard Heitmeyer Solo Guitar Collection

Howard Morgen Plays "September Song"

Jazz Guitar Chords & Arpeggio Patterns - Stacy McKee - This unique book includes 300 jazz guitar chord formations and matching single note arpeggio patterns in a quick reference format that no one has ever done before! Cross indexing makes this manual extremely easy to use and regardless of what style of music you play, we know you will find this to be a valuable, "must have" addition to your library. Stacy McKee was the featured guitarist with "Les Brown and The Band Of Renown" and for a limited time only, we will include an exclusive copy of his book FREE with your first order!
==> Click here to see the Stacy McKee Chord Melody Solo Collection <==

Wikipedia article on jazz guitar
Wikipedia article on fingerstyle guitar

Please get in touch with us personally if you have any questions.
U.S. residents call Toll-Free 1-800-913-9477
Outside the U.S. call 1-843-838-2657

You can easily place your order Toll Free by calling 1-800-913-9477 now!
OR click on this link to use our Secure Order Form All orders are backed by
our "exclusive" 30-Day No-Risk Guarantee! See Our Guarantee!

Chord Melody Productions PO Box 569 Beaufort, SC 29901


1-800-913-9477 -Toll Free 843-838-2657 - Phone 843-838-7381 - Fax chordmelod@aol.com

.............................................Home Page.......................................Secure Order Form.........................................