Murphy Henry Guitar Tab Books, Instruction DVDs, Solos, Arrangements, Video Lessons
*FREE BOOK - "Jazz Guitar Chords & Arpeggio Patterns" by Stacy McKee (with 1st order)*
..................................................Chord Melody Guitar Music.......................................................
1-800-913-9477 -Toll Free 843-838-2657 - Phone 843-838-7381 - Fax chordmelod@aol.com
Acoustic Guitar Books/DVDs..........Classical Guitar Books/DVDs.............Lick Library Guitar DVDs
Beginner's Guitar Books/DVDs.......Country Guitar Books/DVDs..............Play Along Guitar Books/DVDs
Blues Guitar Books/DVDs................Flamenco Guitar Books/DVDs............Religious Guitar Books/DVDs
Brazilian Guitar Books/DVDs..........Jazz Guitar Course Books/DVDs........Robert Conti Guitar Books/DVDs
Celtic Guitar Books/DVDs................Jazz Guitar Books/DVDs (A-K)..........Rock Guitar Books/DVDs
Christian Guitar Books/DVDs..........Jazz Guitar Books/DVDs (L-Z)...........Spanish Guitar Books/DVDs
Secure Order Form
*Click Here For Featured DVDs Of The Week On Sale!!
==> Click Here To Search By Artist Name or Band Name <==
Need Help Choosing The Right Guitar Book or Video? Peabody Conservatory
trained guitarist Steven Herron is available to answer questions and make recommendations
that will help you become a better guitarist! Just call Toll-Free 1-800-913-9477 now!!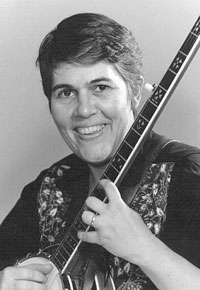 Murphy Henry
Murphy Henry, co-founder with her husband Red of The Murphy Method, teaches banjo, guitar, mandolin, and ukulele. She's been teaching almost as long as she has been playing. Murphy grew up singing in church and taking piano lessons. She learned how to play guitar during the folk boom and quickly taught her sisters to play so that she'd have someone to play with.

In college (University of Georgia) she played at coffeehouses with just her guitar until, on the recommendation of Florida folksinger Gamble Rogers, she went to her first bluegrass festival and decided that she wanted to play bluegrass.

She learned how to play bass so that she could take a job with Betty Fisher and the Dixie Bluegrass Band. But she quickly realized that the bass player doesn't get nearly the attention that the banjo player does, so she settled on the banjo as the instrument for her. She met future-husband Red at a bluegrass festival and not long after she graduated from UGA (with a degree in food science--of all things!) they married and started their own band--Red and Murphy and Co.

Based in Gainesville, FL from the mid-seventies until 1986, Red and Murphy played on the southeastern festival circuit, as well as at a lot of Florida bars and clubs. They produced seven albums and two children. Murphy taught banjo in Gainesville and when they traveled fans often lamented that they were not close enough to Murphy to take lessons in person.

She had the idea of putting her lessons on cassette, so that folks far away could learn the same way her live students did. What started out as a modest six-cassette Beginners Banjo Series slowly grew to a forty-plus video, six instrument instructional method.

Murphy Henry - Flatpicking Lead Guitar - DVD

*Out Of Stock*
Flatpicking Lead Guitar: Finally, a flatpicking DVD that begins at the beginning! Strong, basic arrangements of great guitar tunes get you started. All songs are broken into phrases and each note as well as each pick stroke is explained in detail. A great way to learn to flatpick. Go for it! Songs include: " Old Joe Clark, Sally Goodin, Soldier's Joy, Arkansas Traveler."
(70 min).................................................................................Price - $29.95

Jazz Guitar Chords & Arpeggio Patterns - Stacy McKee - This unique book includes 300 jazz guitar chord formations and matching single note arpeggio patterns in a quick reference format that no one has ever done before! Cross indexing makes this manual extremely easy to use and regardless of what style of music you play, we know you will find this to be a valuable, "must have" addition to your library. Stacy McKee was the featured guitarist with "Les Brown and The Band Of Renown" and for a limited time only, we will include an exclusive copy of his book FREE with your first order!
==> Click here to see the Stacy McKee Chord Melody Solo Collection <==

Wikipedia article on flatpicking
Wikipedia article on lead guitar

Please get in touch with us personally if you have any questions.
U.S. residents call Toll-Free 1-800-913-9477
Outside the U.S. call 1-843-838-2657

You can easily place your order Toll Free by calling 1-800-913-9477 now!
OR click on this link to use our Secure Order Form All orders are backed by
our "exclusive" 30-Day No-Risk Guarantee! See Our Guarantee!

Chord Melody Productions PO Box 569 Beaufort, SC 29901


1-800-913-9477 -Toll Free 843-838-2657 - Phone 843-838-7381 - Fax chordmelod@aol.com

.............................................Home Page.......................................Secure Order Form.........................................