Mike Ihde Guitar Tab Books, Instruction DVDs, Solos, Arrangements, Video Lessons
*FREE BOOK - "Jazz Guitar Chords & Arpeggio Patterns" by Stacy McKee (with 1st order)*
..................................................Chord Melody Guitar Music.......................................................
1-800-913-9477 -Toll Free 843-838-2657 - Phone 843-838-7381 - Fax chordmelod@aol.com
Acoustic Guitar Books/DVDs..........Classical Guitar Books/DVDs.............Lick Library Guitar DVDs
Beginner's Guitar Books/DVDs.......Country Guitar Books/DVDs..............Play Along Guitar Books/DVDs
Blues Guitar Books/DVDs................Flamenco Guitar Books/DVDs............Religious Guitar Books/DVDs
Brazilian Guitar Books/DVDs..........Jazz Guitar Course Books/DVDs........Robert Conti Guitar Books/DVDs
Celtic Guitar Books/DVDs................Jazz Guitar Books/DVDs (A-K)..........Rock Guitar Books/DVDs
Christian Guitar Books/DVDs..........Jazz Guitar Books/DVDs (L-Z)...........Spanish Guitar Books/DVDs
Secure Order Form
*Click Here For Featured DVDs Of The Week On Sale!!
==> Click Here To Search By Artist Name or Band Name <==
Need Help Choosing The Right Guitar Book or Video? Peabody Conservatory
trained guitarist Steven Herron is available to answer questions and make recommendations
that will help you become a better guitarist! Just call Toll-Free 1-800-913-9477 now!!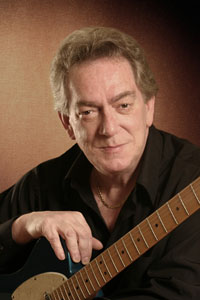 Mike Ihde
Mike Ihde is a versatile guitarist and vocalist. A multi-instrumentalist who plays electric and acoustic guitar, bass guitar, keyboards, lap steel guitar, pedal steel guitar and Dobro. He is also a film composer (The Sun Dagger with Robert Redford), an author (Classic Rock Guitar Styles, Country Guitar Styles, A Different Slant) and a member of the Guitar Faculty at Berklee School of Music in Boston since 1972.

He has performed with everyone from Joan Baez to The Boston Pops Orchestra, taught guitar seminars in Japan, had 2 original Gospel tunes recorded in Nashville, played on the theme to the TV show "Home Again" with Bob Vila, given guitar and pedal steel lessons to Joe Perry of Aerosmith and backed up tons of "Doo Wop" groups in concerts around the New England area!

Mike Ihde - 333 Licks, Tricks & Techniques Every Guitarist Should Know - Book & DVD
Ever wished you could learn practically every lead style, cool tricks, great sounding licks that you'll actually use, all the chord scale rules, all the chords you'd ever need and much, much more in one book? Well, wish no more! Berklee School of Music faculty member Mike Ihde has put all this and more into his latest publication and the extra bonus is the way Mike teaches you WHY these licks and tricks work! Every example is thoroughly explained in a clear and easy to understand way so you not only learn a new phrase, you learn the principles behind why it sounds good and where to use it. LICKS: Tons of the hippest and most essential licks around. These are licks you will use! Styles include Rock, Blues, Jazz, Metal, Country, Folk, Bluegrass, Funk, Rockabilly, Western Swing, and many more! More than 2 and a half hours of recorded examples. TRICKS: Want to know how to make your guitar sound like Steel Drums, Banjo, Marimba, a Church Bell, a Theramin and more without spending a penny on more equipment? The answers are all inside. TECHNIQUES: Scales, chord forms, Jazz chord scale theory, rhythm guitar in all styles, and so much more, there's even brief histories of the most important styles. VIDEOS: Watch the pros play and talk about their music and the techniques they use.15 QuickTime movies included on the DVD. Over 6 hours of video. The artists on the video are: Mike Auldridge, Alison Brown, Buddy Emmons & Doug Jernigan, Jon Finn, Ray Flacke, Pete Huttlinger, Phil Keaggy, Abraham Laboriel, Billy Robinson & Bobbe Seymour, Joe Stump, David Tronzo. IMPORTANT: The DVD in this book will NOT play in your consumer DVD player. It is formatted for your computer, either PC or Mac. The "Video Folder" contains 15 QuickTime movies. You can click on any to watch it as long as you have the free QuickTime player. The "Audio Folder" contains 240 MP3's. These can be imported into iTunes, your iPod or any program that uses MP3 audio.
(8 hours) Notation and tab..................................................Price - $34.95

Jazz Guitar Chords & Arpeggio Patterns - Stacy McKee - This unique book includes 300 jazz guitar chord formations and matching single note arpeggio patterns in a quick reference format that no one has ever done before! Cross indexing makes this manual extremely easy to use and regardless of what style of music you play, we know you will find this to be a valuable, "must have" addition to your library. Stacy McKee was the featured guitarist with "Les Brown and The Band Of Renown" and for a limited time only, we will include an exclusive copy of his book FREE with your first order!
==> Click here to see the Stacy McKee Chord Melody Solo Collection <==

Wikipedia article on guitar licks
Wikipedia article on guitar tablature

Please get in touch with us personally if you have any questions.
U.S. residents call Toll-Free 1-800-913-9477
Outside the U.S. call 1-843-838-2657

You can easily place your order Toll Free by calling 1-800-913-9477 now!
OR click on this link to use our Secure Order Form All orders are backed by
our "exclusive" 30-Day No-Risk Guarantee! See Our Guarantee!

Chord Melody Productions PO Box 569 Beaufort, SC 29901


1-800-913-9477 -Toll Free 843-838-2657 - Phone 843-838-7381 - Fax chordmelod@aol.com

.............................................Home Page.......................................Secure Order Form.........................................