Jim Heffernan Resophonic Guitar Tab Books, Instruction DVDs, Solos, Arrangements, Video Lessons
*FREE BOOK - "Jazz Guitar Chords & Arpeggio Patterns" by Stacy McKee (with 1st order)*
..................................................Chord Melody Guitar Music.......................................................
1-800-913-9477 -Toll Free 843-838-2657 - Phone 843-838-7381 - Fax chordmelod@aol.com
Acoustic Guitar Books/DVDs..........Classical Guitar Books/DVDs.............Lick Library Guitar DVDs
Beginner's Guitar Books/DVDs.......Country Guitar Books/DVDs..............Play Along Guitar Books/DVDs
Blues Guitar Books/DVDs................Flamenco Guitar Books/DVDs............Religious Guitar Books/DVDs
Brazilian Guitar Books/DVDs..........Jazz Guitar Course Books/DVDs........Robert Conti Guitar Books/DVDs
Celtic Guitar Books/DVDs................Jazz Guitar Books/DVDs (A-K)..........Rock Guitar Books/DVDs
Christian Guitar Books/DVDs..........Jazz Guitar Books/DVDs (L-Z)...........Spanish Guitar Books/DVDs
Secure Order Form
*Click Here For Featured DVDs Of The Week On Sale!!
==> Click Here To Search By Artist Name or Band Name <==
Need Help Choosing The Right Guitar Book or Video? Peabody Conservatory
trained guitarist Steven Herron is available to answer questions and make recommendations
that will help you become a better guitarist! Just call Toll-Free 1-800-913-9477 now!!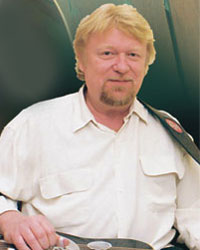 Jim Heffernan
Jim Heffernan is a highly respected Nashville session player, sideman, and producer. He is one of the true masters of the resonator guitar. Jimmy also happens to be an outstanding music instructor who loves to teach, and has a real gift for it.

Jim has played with Joe Diffie, Brad Paisley, Larry Sparks, Red Allen, and Doug Kershaw to name a few. He is one of the Resocasters, along with Mike Auldridge and Hal Rugg. Jim is a clinician for Beard Guitars, GHS strings, Fred Kelly's picks, Hipshot, Guernsey Guitars, Schoonover Guitars, and Gibson Guitars.

Jim Heffernan - Resophonic Guitar From Scratch - 2 DVD Set
Step by step instruction through the basics of resophonic guitar. Topics include: picks, bars, warm-up, exercises, songs, tuning, posture, practicing techniques, how to fit in with a band and internet resources! There are many lessons included in this program. You will learn the essential techniques to modern resophonic guitar playing. Jim will guide you through the correct way to accomplish hammer-ons, pull-offs, rakes, slides, rolls, and vibrato. You'll be learning three professional level arrangements of standard bluegrass songs including: "I'll Be All Smiles Tonight, Cripple Creek, and Nine Pound Hammer", rather than over simplified "beginner arrangements". Also included are many standard resophonic guitar clichés. Jim will show you how to weave these together into an improvised song. Whether you are a beginner or you have been playing for a while, Jim will help you improve your technique and develop your own style.
(120 min) Printable PDF booklet........................................Price - $39.95

Jazz Guitar Chords & Arpeggio Patterns - Stacy McKee - This unique book includes 300 jazz guitar chord formations and matching single note arpeggio patterns in a quick reference format that no one has ever done before! Cross indexing makes this manual extremely easy to use and regardless of what style of music you play, we know you will find this to be a valuable, "must have" addition to your library. Stacy McKee was the featured guitarist with "Les Brown and The Band Of Renown" and for a limited time only, we will include an exclusive copy of his book FREE with your first order!
==> Click here to see the Stacy McKee Chord Melody Solo Collection <==

Wikipedia article on resophonic guitar
Wikipedia article on bluegrass music

Please get in touch with us personally if you have any questions.
U.S. residents call Toll-Free 1-800-913-9477
Outside the U.S. call 1-843-838-2657

You can easily place your order Toll Free by calling 1-800-913-9477 now!
OR click on this link to use our Secure Order Form All orders are backed by
our "exclusive" 30-Day No-Risk Guarantee!

See Our Guarantee!

Chord Melody Productions PO Box 569 Beaufort, SC 29901


1-800-913-9477 -Toll Free 843-838-2657 - Phone 843-838-7381 - Fax chordmelod@aol.com

.............................................Home Page.......................................Secure Order Form.........................................